His works are considered 'trash art'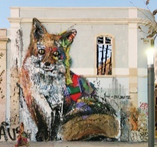 'I' am part of a very consumerist and materialistic generation.
The education we receive is directed towards overconsumption, with excessive production of stuff, especially technology.'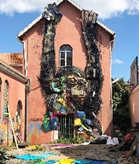 Big Trash Animals (Grandes Animais do Lixo) is a series of artworks aimed to draw attention to waste production and pollution and its effect on the planet.
The idea is to depict nature itself – in this case animals – out of materials that are responsible for its destruction.



'The works are built from scrap.'
The majority are found in wastelands or abandoned factories; damaged bumpers, burnt garbage cans, plastic stuff, and old tires.
They are camouflaging the result of our greedy habits with little ecological and social awareness.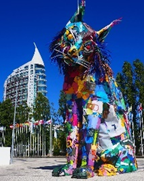 Artur Bordalo (Lisbon, 1987) uses his artist name Bordalo II ('the second') as a tribute to his grandfather in order to promote continuity and reinvention of his artistic legacy.
At first sight, you might associate his name with the famous plastic artist Rafael Bordalo Pinheiro. In fact, it is an allusion to his grandfather Real Bordalo, a painter of watercolors.



In his youth, he lived between two artistic worlds; in one he watched his grandfather painting landscapes and typical scenes of the city and in the other, he dedicated his time to producing illegal graffiti in Lisbon.
This practice helped him to get comfortable with big dimensions and work on the street.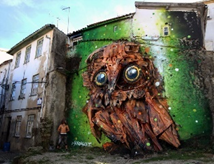 In 2007 he enrolled at the Fine Arts Faculty of Lisbon in painting. He attended school for three years without ever completing it. Those years, however, allowed him to discover sculpture, and ceramics, and to experiment with materials that distanced him from painting, which had taken him there in the first place.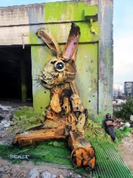 The public space would become the canvas for his creative expressions of color and scale and the platform where he gradually transformed his work, which is focused on questioning the materialistic society of which he is also part.



Since 2012 Artur Bordalo – who calls himself an artivist – has created over 200 animal sculptures using more than 60 tons of reused materials.
He is also famous for his Railway Series in Portugal in which he uses train tracks to make art.
His 3-dimensional installations can be found all over the world.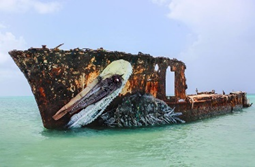 His consciousness and concern for the environment have always been there. I
n 2013 he presented his first art piece made out of garbage at the festival Walk & Talk in the Azores.
When he is not traveling abroad, Bordalo continues collecting street trash for his sculptures in his studio in northern Lisbon.

Enjoy the week                                                 Aproveite a semana



https://lusolobo.com/wp-content/uploads/2023/05/Foto-Blog-Bordalo.jpg
360
640
Lusolobo
https://lusolobo.com/wp-content/uploads/2022/12/logo-lusolobo-3-300x184.png
Lusolobo
2023-05-22 11:09:53
2023-05-22 11:11:06
Bordalo II