Portugal's brittle healthcare system is under growing pressure due to an unprecedented rise in coronavirus infections as a result of a relaxation of the measures during Christmas.



Even after a stricter lockdown was put in place on the 15th of January, the number of new cases continued to rise to over 1000 per 100.000 inhabitants. Nearly double that in hard-hit Spain and three times as much as in the Netherlands. This week's increase is even the biggest in the world!


The health system – which prior to the pandemic had the lowest number of critical care beds per 100.000 inhabitants in Europe – can accommodate a maximum number of 675 Covid patients in ICUs. Currently, more than 95% of the ICU beds are occupied and a further increase in the number of patients is expected over the coming weeks.

'The impact in hospitals is huge because the number of beds doesn't increase, the walls are not expandable and health workers are not multiplying' declared Antonio Pais de Lacerda, a doctor at Lisbon's biggest hospital Santa Maria.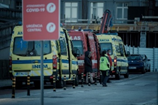 It is predicted that as many people will die in the next two months as in the last ten and that daily case numbers will not drop before February. Media images of ambulances with patients queuing outside major hospitals in Lisbon waiting for beds, raise fears whether the National Health System (SNS) is on the verge of collapse.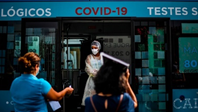 At a recent Infarmed meeting – where government hears the opinion of experts – it was estimated that it will take at least two months for the country to return to pre-Christmas levels. The feeling also was that testing – currently around 47,000 tests a day with around 18% positive results – should be increased, especially in old people's homes.

With a daily death toll reaching a record high of 218 – one death every seven minutes – and 10.455 new cases, the authorities desperately try to put a lid on the spread of infections. In a country just over 10 million already over 9000 people have died since the start of the pandemic.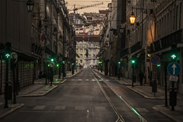 In view of the unacceptable rise in the number of cases and deaths, Prime Minister António Costa issued – just 3 days after a stricter lockdown was put in place – even tougher restrictions, similar to the ones during the lockdown of March/April last year. Schools, however, will remain open, much to the dislike of the Ordem dos Médicos, that has called for an immediate closure to save lives.  

It will be clear that protection of the elderly has failed and that until a successful roll-out of the vaccination programme is in place, tension will prevail.

Stay healthy                          Fique saudável             (pic Público/Expresso)



https://lusolobo.com/wp-content/uploads/2021/01/Foto-Blog-Unsustainable.jpg
768
1152
Lusolobo
https://lusolobo.com/wp-content/uploads/2022/12/logo-lusolobo-3-300x184.png
Lusolobo
2021-01-20 12:42:18
2021-01-20 12:49:29
Unsustainable