'Everyone hides things, at home, at work. I hide in what I paint.'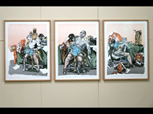 The Portugal-born, London-based Paula Rego is in vogue. Having finished last year a monograph at the L' Orangery in Paris and a solo exhibition at the new MK Gallery in Milton Keynes (UK), she shows contemporary art as from the 4th of May at the transnational exhibition Diversity United, together with 90 artists from 34 countries.



This summer, a large, comprehensive retrospective is scheduled for Tate, Britain (June 16 -October 24). The exhibition in London featuring over 100 pieces – including collage, paintings, etchings, pastels, and sculptures – will highlight the nature of her work and the socio-political context in which it is rooted.



Since the 1950s Paula Rego has played a key role in redefining figurative art. An uncompromising artist of extraordinary imaginative power, who revolutionised the way in which women are represented.

Rego – who was born in 1935 – is known for her sinister lexicon, which often draws on dark folk tales, and stars ruthless female agents devoid of feat or meekness.


Although her subjects are physically vulnerable – like in the Abortion Pastels – it's clear that she is
not painting victims.



Rego is vehemently pro-choice, and has often spoken of the desperate fishermen's wives, mothers already several times over, who'd turn up at the house she shared with her husband – when they were living in the Portuguese coastal village of Ericeira in the 60s – begging for money for backstreet abortions.

Herself with a childhood full of loneliness. The feeling of abandonment – while her parents lived in England, she stayed with her parental grandparents in Portugal until she was three years old. The close relationship with her father – 'he taught me to think for myself, to do what I wanted' – and the distance with her mother – 'I don't think I ever had a worthwhile conversation with her'.



The tough years in London at the Slade School of Fine Art (1952-1956), where fantasy wasn't given space. The troubled love story with her husband – the English painter Vic Willing – she admired, a married man seven years her age. Infidelities. The provoked abortions in Soho before the birth of her three children. The depression she already felt, since she was a child.



The loss of her family fortune after the Carnation Revolution – 25th of April, 1974 – forced her to sell her grandparents' farm in Ericeira. The importance of her work for her and the late recognition of it. The husband's chronic illness – for years bedridden with multiple sclerosis – and his death in 1988, after an unsuccessful suicide attempt a year before.

Paula Rego, artist, wife, and mother, in that order.

Stay healthy Fique saudável






https://lusolobo.com/wp-content/uploads/2021/04/Foto-Blog-PaulaRego.jpg
1200
1600
Lusolobo
https://lusolobo.com/wp-content/uploads/2022/12/logo-lusolobo-3-300x184.png
Lusolobo
2021-04-22 09:41:46
2021-04-22 10:26:03
PaulaRego-2