'Consoada is free of meat, as required before Misa do Galo'

The Portuguese needed fish for religious reasons as meat consumption was forbidden during Lent and on the many fasting days in their Catholic calendar. These rules on fasting led to the tradition of eating bacalhau (cod) on Christmas Eve. The consoada is a humble meal. Salt-dried codfish – soaked for 2 to 3 days to remove most of the salt – is boiled with cabbage and potatoes, and sometimes eggs and chickpeas. Free of meat, as required before the Missa do Galo (Midnight Mass).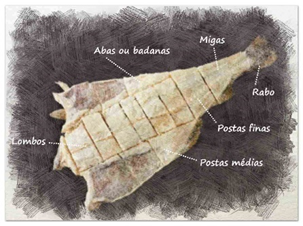 Portugal is the world champion in consuming cod, with 20 percent of all cod caught worldwide being eaten in the country. The fish isn't native to Portuguese waters. The Vikings – who used to take air-dried cot on their sea voyages – probably introduced bacalhau in Portugal in search of salt. To preserve it longer the Basques went a step further by salting the fish before drying.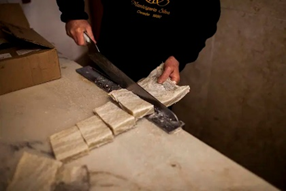 The preserved cod proved convenient for long intercontinental crossings to Asia and Brazil during the 16th and 17th centuries. Over the centuries, salt cod became one of the most affordable animal proteins and a popular staple food in a poor country, where it was known as the 'meat of the poor' and more recently 'the faithful friend' (o fiel amigo).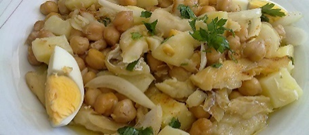 As cheap food for the masses, some of the best bacalhau recipes came out of recycling leftovers or the less prized parts of the fish, such as bacalhau à Brás (shredded cod with scrambled eggs and straw fries).

But also pataniscas de bacalhau (cod fritters), pastéis de bacalhau (cod cakes), bacalhau à Gomes de Sá (with potatoes and eggs), bacalhau com natas (cod baked with cream) and arroz de bacalhau (salt cod in rice stew).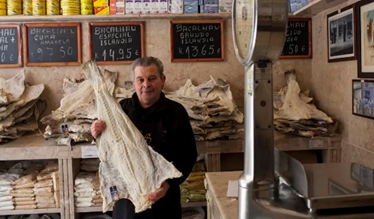 While working as an academic researcher António Oliveira Salazar, an economist by training and future leader of the Portuguese dictatorial regime, learned that cod shortage could have a tremendous impact on society. He prioritized a continual and affordable salt cod supply and cod fishing in Newfoundland became a protected industry during his dictatorship.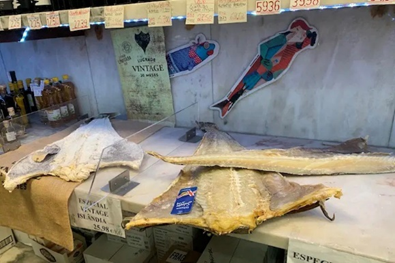 The so-called 'cod campaign', which ran from 1934 until 1967, continued even during the Second World War. The fishing boats were painted white and allowed to pass over the northern Atlantic. When protective fishing laws were changed in 1968, many Portuguese ships stopped their activity in Newfoundland. In the early 1990s, the Canadian cod banks collapsed due to overfishing. Most bacalhau nowadays is imported from Norway and Iceland.


Enjoy the festive season Boas Festas (pic Público/CeliaPedroso)


















https://lusolobo.com/wp-content/uploads/2022/12/Foto-Blog-Consoada.jpg
640
480
Lusolobo
https://lusolobo.com/wp-content/uploads/2022/12/logo-lusolobo-3-300x184.png
Lusolobo
2022-12-26 09:14:03
2022-12-26 09:27:38
Consoada