'When traveling from Amsterdam last Sunday, the incoming TAP flight was delayed by an hour. Although they had to change terminals, no information whatsoever was given to the passengers. On arrival in Lisbon, they had to remain seated in the plane for about 20 minutes, due to lack of transport to the main building. Once arrived at the assembly line, they had to wait another 45 minutes to get their suitcases and subsequently stood 30 minutes in the queue to catch a cab to the city center!'

With the vigorous rise in the number of flights to Lisbon over the past 10 years – and a subsequent increase in passengers from 13 to 27 million – complaints about Humberto Delgado Airport have doubled since 2015. Delays at departure, on arrival, at customs ( especially when arriving from a non-Schengen destination) and delays in communication. 'TAP is always delayed', you often hear from fellow passengers and water bottles have become standard equipment in the long waiting queues.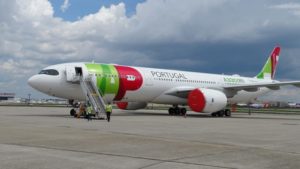 Lisbon Airport is congested and overcrowded, a victim of a booming tourism industry. Records are broken every year. On the 22nd of June, 680 flight movements – take-offs and landings – were reported, an all-time high. That same month, the airport had to cancel even more flights than Heathrow, that handles three times as many passengers per year.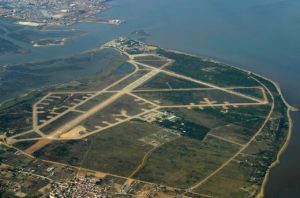 Nevertheless, growth is skyrocketing and a further boost of 10 million passengers is expected over the next 5 years. The 75 years old airport certainly can't cope, despite its clean appearance, tasty food, and nice shops.
To alleviate the constraints, the government seriously considers renovating a former military airbase in Montijo – across the Tagus – that could be made operational for civil aviation by 2022.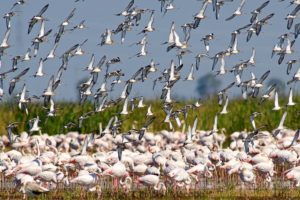 The ecological movement ZERO criticises the lack of transparency in the decision-making and fears the impact on the flora and fauna in the nearby Tagus Estuary Natural Reserve and noise pollution for the approximately 55.000 residents in the area. It demands a proper environmental evaluation, including alternative sites for the complementary airstrip. If the government doesn't meet these requirements, the environmentalists will go to court and eventually proceed to the European Commission. The aviation lobby warns that further postponement will cost the treasury each year 600 million euros in revenues, from tourism alone.

Bom fim de semana                   Have a great weekend                 (pic Público)
https://lusolobo.com/wp-content/uploads/2018/07/Foto-Blog-Delay.jpg
1365
2048
Lusolobo
https://lusolobo.com/wp-content/uploads/2022/12/logo-lusolobo-3-300x184.png
Lusolobo
2018-07-19 14:02:57
2018-07-31 10:24:55
Delay