'Hij gaat ze heilig verklaren.' Glimmend van genot staat de 70-jarige Carmen voor me. 'Wie gaat wie …' wil ik vragen, als ze me al in de rede valt. 'En we gaan er ook naartoe. Met de pastoor'. 'Tjé, wat goed', mompel ik. 'Dat jullie nog een bus hebben kunnen regelen. Ik las in de krant dat er meer dan een miljoen mensen schijnen te komen.'
'Maar wie gaat wie eigenlijk heilig verklaren', probeer ik nog eens. Ze kijkt me niet begrijpend aan. 'Papa Francisco, natuurlijk, die gaat Jacinta en Francisco heilig verklaren. Dat zijn die twee herdertjes waar de Maagd Maria 100 jaar geleden aan verschenen is. (Fátima)
Dat weet u toch wel?' 'Nee, sorry Carmen, nu snap ik het even niet meer. Die twee waren toch al heilig?' 'Nee', zegt ze streng. 'Ze waren eerst zalig verklaard en nu gaat de paus ze op 13 mei heilig verklaren, als hij in Fatima is. Ze zijn dan de jongste heiligen in de Rooms-Katholieke Kerk. Leuk hè!' Glimlachend loopt ze de hoek om.
Zalig of heilig?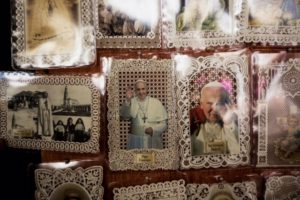 Zaligverklaring is een gebruik binnen de Rooms-Katholieke Kerk, waarbij een paus officieel verklaart dat iemand publiekelijk vereerd mag worden. Overigens moet die persoon daarvoor wel een wonder hebben verricht. Een 'zalige' heeft vooral betekenis voor een bepaalde regio, waar hij of zij al geruime tijd door de lokale bevolking vereerd wordt.
Voor een heiligverklaring moeten twee wonderen aan de betreffende persoon zijn toegeschreven. De 'heilige' wordt dan ingeschreven in de canon – de lijst der heiligen – en mag vervolgens over de hele wereld vereerd worden.
Fátima als altaar van de wereld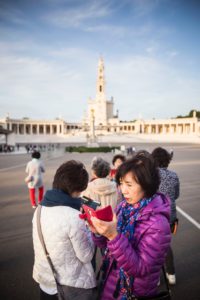 De meeste buitenlandse toeristen komen traditiegetrouw uit Spanje, Italië en Polen. De laatste jaren is er een forse toename van bezoekers uit Azië en boeken Zuid-Koreanen al meer overnachtingen dan katholieke Brazilianen.
Inmiddels zijn er zo'n 40.000 pelgrims – merendeels vrouwen – uit alle delen van het land te voet op weg naar Fátima.
Erkenning maar ook omzet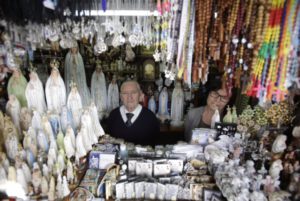 Dit jaar worden er – door het bezoek van de paus en de heiligverklaring van de twee kinderen – meer dan 10 miljoen bezoekers verwacht.
Dat geeft niet alleen een 'boost' aan de wereldwijde erkenning van Fátima maar ook aan de plaatselijke omzet van rooms-katholieke snuisterijen.
22 uur en 40 minuten zal paus Franciscus op Portugese bodem verblijven. De regering heeft aangekondigd dat zowel ambtenaren als scholen een vrije dag hebben en dat de grenzen tijdelijk dicht gaan.
Geniet van het weekend Tenha um excelente fim de semana
/
by Lusolobo
https://lusolobo.com/wp-content/uploads/2017/05/Foto-1-12-5-2017-Paus-1.jpg
426
640
Lusolobo
https://lusolobo.com/wp-content/uploads/2022/12/logo-lusolobo-3-300x184.png
Lusolobo
2017-05-11 16:34:27
2021-12-03 17:19:51
In de ban van de paus