'The street is not a choice – we want houses'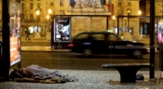 Once upon a pre-Covid time, President Marcelo Rebelo de Sousa promised that he would personally see to it, that all 400 homeless in the capital got off the street in 2023. Since the new virus hijacked the country's economy very little has changed. In fact, there are a lot more new faces on the street.



On the 15th of June tens of homeless people gathered before Parliament to express their displeasure. Sara – one of the protesters – has no job and feels discriminated against by the government. 'I am not a number, I am a person. We have a right to housing!'



Many homeless people, don't believe in shelters as they lump too many problematic individuals together under one roof.
The best solution would be to discuss with the homeless the needs of each and every one.
'

'The government give us a minimum income of 189 euros per month but that is not nearly enough to rent a room.
When the landlords know we are homeless, they ask a six months deposit for a room.
There are a lot of abandoned houses in Lisbon. Why can't they be used to rehouse the homeless?'

Manuel Grilo – Lisbon's councillor for Education and Social Rights – declared that since the beginning of the pandemic 500 homeless people have been attended in four emergency centres created by the municipality.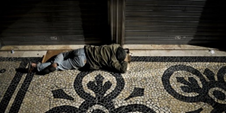 47 of them have been referred to the Housing First program, a project financed by the City Council in which people are integrated into individual housing and supported by professionals. The municipality hopes that by the end of the year a total of 380 people will be accommodated through this program.

According to Guerreiro – another homeless protester in front of Parliament – the councillor of the Left Bloc lives out of reality. 'Until today, there is not one municipal house attributed to a homeless person!'



In order to judge the evolution of homeless cases 'on the ground', the President recently paid a visit to the Avenida AlmiranteReis, Cais do Sodré and Santa Apolonia in Lisbon.

'It is sad to see that the new crisis means an increase in homelessness, especially among young people. Now saying that the 2023 goal will be met, would be a lie with over 100.000 unemployed in Portugal due to Covid'.

Stay healthy                 Fique saudável             (pic PtRes/Público/JEcon)



https://lusolobo.com/wp-content/uploads/2020/06/Foto-Blog-Homeless.jpg
600
960
Lusolobo
https://lusolobo.com/wp-content/uploads/2022/12/logo-lusolobo-3-300x184.png
Lusolobo
2020-06-24 10:41:08
2020-06-24 10:41:12
Homeless