'Senhor, senhor.' João woke up, turned drowsy around and looked straight into the smiling face of a black man, who was waving with a bunch of sunglasses over his head. 'Very cheap, very good.' 'Thanks, man, I don't need anything', João muttered turning back on his bath towel.
He was sleeping badly since that horrible peace mission operation in Mali last month when El Qaida had, completely unexpected, attacked the hotel in the capital Bamako and killed – besides a dozen of tourists – two of his best friends. Young guys still. Shame!
Fortunately, he had sat high and dry in a plane on his way home, when the raid occurred. Despite the fact that he – as a sergeant at the Air Force – had carried out numerous peacekeeping missions in war zones all over the world, he felt that the safest place on earth was high in the sky.
How lovely was this calm beach with the afternoon sun gently roasting his back, the rhythmic burbling of the surf nearby and the smell of salty sand. His thoughts wandered off how horrible it must have been to be confronted all of a sudden with a batch of terrorists storming the hotel, shouting Allah Akbar and killing as many people as possible.
Maybe this was a warning, that he should stop this kind of work and look for less risky employment. But an office job on the ground? No way! Was flight instructor perhaps a good alternative? After all, he had lots of experience after flying for more than 25 years. Besides, he was also getting older with his 56 years. His 83-year-old mother would love it to have him around. Especially since his father had passed away last year and she had moved from Lisbon to a smaller apartment in Caparica, near the beach.
Satisfied he fell asleep again, while he heard in the distance the familiar sound of an approaching airplane.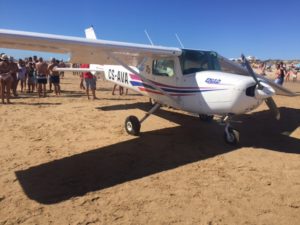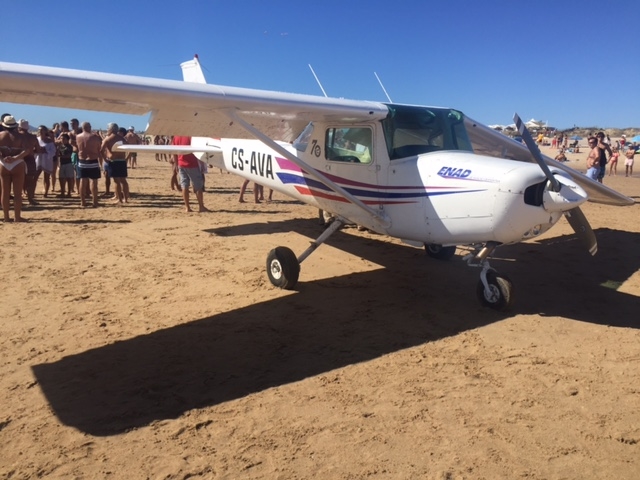 A 56-year-old sergeant of The Air Force was killed when a Cessna aircraft made an emergency landing on the São João da Caparica beach, 20 km to the south of Lisbon. 'The plane hit the man as he sunbathed on a towel', witnesses declared.

BOM FIM DE SEMANA                                                                             (photo Público)
https://lusolobo.com/wp-content/uploads/2017/11/Foto-1-Overhead-1.jpg
480
640
Lusolobo
https://lusolobo.com/wp-content/uploads/2022/12/logo-lusolobo-3-300x184.png
Lusolobo
2017-11-23 12:45:52
2018-03-17 17:14:45
Overhead