Portugezen kijken ernstig. Bijna net zoals de vele standbeelden, die in dit land niet van beroemde militairen uit een ver verleden maar van dichters en schrijvers zijn.
Als je een Portugees vraagt hoe het gaat, krijg je vaak als antwoord 'mais ou menos' ('zo-zo'). Dat wil overigens niet zeggen dat hij of zij zich niet goed voelt. Eenmaal wat langer in het land valt aan de melancholische cultuur amper te ontkomen. Geen droefgeestigheid met een verdrietige blik op de wereld maar weemoed, waarin juist veel schoonheid en vreugde zit.
Saudade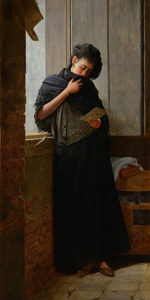 Misschien wel het bekendste Portugese woord. Onvertaalbaar en ongrijpbaar voor een buitenlander volgens Fernando Pessoa, Portugals beroemdste moderne dichter (Fernando Pessoa)
Saudade is een gevoel van tegelijkertijd verlangen, hunkeren, verlies, afstand, afwezigheid, droefheid, liefde en gemis naar een persoon, plaats of gebeurtenis. Het is meer dan heimwee, omdat je saudade ook kunt voelen over iets dat nooit gebeurd is of waarschijnlijk nooit zal gebeuren.
Het woord is ontstaan tijdens de Portugese ontdekkingsreizen in de 15e eeuw om uitdrukking te geven aan het verlangen naar diegenen, die naar onbekende streken vertrokken.
Het enige medicijn tegen saudade is geheugenverlies  – Carlos Drummond de Andrade
Saudade is een beetje zoals honger. Het gaat alleen over als 'aanwezigheid' gegeten wordt  –  Clarice Lispector
Fado
De muzikale expressie van saudade is Fado, het traditionele Portugese levenslied. Fado betekent lot en er is geen muzieksoort waarin melancholie en fatalisme zo wordt gecultiveerd. De muziek ontstond in de kroegen en bordelen van de volkswijken Alfama en Mouraria in Lissabon.
De eerst zangers waren vissersvrouwen, waarvan de man vaak niet uit zee terugkeerde. Ze zongen dat we het lot moeten accepteren, ook en vooral als dat wreed is. De belangrijkste fadozangeres was Amália Rodrigues, die van arm volksmeisje uit de Alfama uitgroeide tot wereldster.
O salty sea, so much of whose salt
Is Portugal's tears! All the mothers
Who had to weep for us to cross you!
All the sons who prayed in vain!
All the brides-to-be who never
Married for you to be ours, O sea!
( Fernando Pessoa in Portuguese Sea )
Geniet van het weekend    –    Tenha um excelente fim de semana
/
by Lusolobo
https://lusolobo.com/wp-content/uploads/2017/03/Foto-31-3-2017-Saudade-3.jpg
439
220
Lusolobo
https://lusolobo.com/wp-content/uploads/2022/12/logo-lusolobo-3-300x184.png
Lusolobo
2017-03-31 16:41:20
2018-04-16 18:34:10
Saudade