'The Portuguese history is not just white, Mocambo may not remain forgotten'.

Around 1500 King Manuel I decided to give the monopoly of slave trafficking in the Portuguese empire to Lisbon. For two and a half centuries circa 10% of the population in the capital consisted of black slaves, performing the hardest tasks. In one of the western districts, next to the Tagus river, between Bairro Alto and Madragoa – the first African neighbourhood of Europe was born.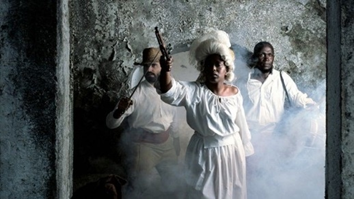 It was here that many Africans – enslaved or freed – found shelter. Mocambo – a word in Umbundu (one of several Angolan languages ) meaning 'place of refuge' – became in the 16th century one of the most populated neighbourhoods in Lisbon. Away from the white Portuguese gaze, the place was essential for African memories and the preservation of social and religious practices (weddings, funerals)  

Those who lived there worked in the maintenance of Lisbon's public places. Sweepers, water distributors, whitewashers – preserving the houses, monuments, and sidewalks. The black or mulatto women worked as a maid or ran barefoot all over the capital to sell fish or coal.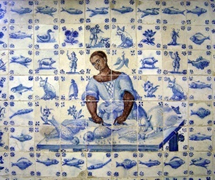 It is from the 16th century onwards that the arrival of enslaved Africans gave rise to physical and social rejection ('black as coal', 'smelly, 'ugly') An image of the African slave, as inferior, and subordinate was established. For a long time, looking at black people were looked at as an ethnic group that was not worthy of being studied.


In Madragoa – where the Portuguese tradition was born of covering façades with tiles to protect property from the humidity rising from the Tagus – there are still some reminders of slavery. Next to the Santa Catarina church, is the Cruz de Pau ('Wooden Cross'), the place of punishment inflicted on the enslaved. Rua do Poço dos Negros ('Black Wells Street') was the place where King Manuel had a well-built, where the dead bodies of the enslaved were thrown in.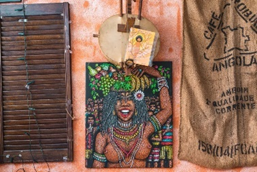 One of the most remarkable moments in Mocambo happened in 1882 when the Queen of Congo – Dona Maria Amália I – stayed there along with her entourage. She had traveled to Portugal to pay homage to the king of Portugal but it were the 'amazing' African festivals in Mocambo, that caught the attention of the newspapers.

At the same time, the descriptions of Mocambo changed from 'one of the best suburbs of Lisbon' to a 'dirty' place, full of 'epidemics'. The neighbourhood began to receive more and more fishermen and Africans headed to other parts of the country, especially after slavery was abolished in Portugal in 1773.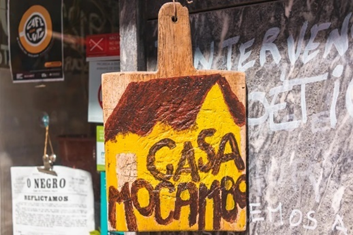 Maps from the late 19th century no longer show any reference to Mocambo. All that remains is Casa Mocambo with an African restaurant and an Art Gallery. A stage for African Lisbon where film cycles dedicated to the black community are organized, as well as theatre sessions and concerts by African musicians. 'We have such a mixed Lisbon and all we talk about is white Lisbon. I want to change that', explains the owner Mafalda Nunes.


Enjoy the week Aproveite a semana (pic Público/Sapo)












https://lusolobo.com/wp-content/uploads/2022/09/Foto-Blog-Mocambo.jpg
768
1280
Lusolobo
https://lusolobo.com/wp-content/uploads/2022/12/logo-lusolobo-3-300x184.png
Lusolobo
2022-09-22 11:57:46
2022-09-22 14:06:50
Mocambo