Hoe lang, O Portugal, hoe lang reeks leven
Wij gescheiden! Zeker, maar de geest,
Die vage geest, nooit sterk of kalm geweest,
Laat je niet los, niet lang en niet heel even.
 [ Uit: Barrow on Furness ]
Hoewel hij drinkt als een spons en rookt als een ketter is schrijven zijn grootste verslaving.
"Hij" is Fernando Pessoa, Portugals belangrijkste dichter van de twintigste eeuw.
Fernando wordt in 1888 in de Largo de São Carlos, midden in Lissabon, geboren. Nadat zijn vader aan TBC overlijdt, vertrekt hij in 1896 met zijn – inmiddels hertrouwde – moeder naar Zuid-Afrika, waar hij tot 1905 op 10th Avenue in Durban woont en daar als scholier zijn eerste gedichten schrijft. Op 17-jarige leeftijd gaat hij in zijn eentje terug naar Lissabon, waar hij – na een mislukte studie – zijn geld verdient als vertaler en handelscorrespondent.
Pessoa lijdt een eenzaam bestaan. Zijn leven bestaat uit vertalen, lezen, drinken, roken en schrijven. Na zijn dood in 1935 wordt in zijn huurkamer een kist met 27.000 volgekrabbelde pagina's gevonden, waaruit een kolossaal oeuvre van voornamelijk gedichten, kon worden samengesteld.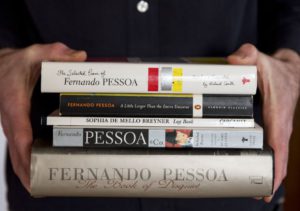 Heteroniemen
Achter het woord "ik" in zijn werken gaan de meest uiteenlopende schrijverspersoonlijkheden schuil, elk met een eigen stijl en woordkeus.
De belangrijkste drie zijn: Ricardo Reis – de klassiek geschoolde intellectueel in Pessoa, Alberto Caeiro – de authentieke, ongecompliceerde dichter en Álvaro de Campos – de bereisde kosmopoliet. Zelf zegt hij daarover: "ik ben het levende podium waarop verschillende auteurs lopen die verschillende stukken spelen."Boek
Ruim 20 jaar heeft Pessoa aan dit omvangrijke prozageschrift gewerkt, dat pas vele jaren na zijn dood, in 1982 wordt uitgegeven. Het is een dagboek zonder dagen of zoals hij zelf schrijft "een biografie zonder feiten."
"Nu de laatste regenbuien weggetrokken zijn en alleen de wind die hen heeft weggevaagd is overgebleven, is de vreugde van de zon teruggekeerd naar de op elkaar gestapelde huizen van de stad en hangt er veel wit ondergoed te fladderen aan de lijnen die tussen korte stokken onder de hoge ramen van de veelkleurige gebouwen zijn gespannen."     [ Uit: Het boek der rusteloosheid ]
Congres over Pessoa
Afgelopen februari organiseerde Casa Fernando Pessoa (http://www.casafernandopessoa.pt) in Lissabon een 3-daags congres ter ere van de schrijver, die samen met de schilders Almada Negreiros (Tentoonstellingstip) en Amadeo de Souza (Tentoonstellingstip) boegbeeld van het Portugese Modernisme is.
Geniet van het weekend                       Tenha um excelente fim de semana
/
by Lusolobo
https://lusolobo.com/wp-content/uploads/2017/03/Foto-2-3-3-17-Pessoa-1.jpg
641
910
Lusolobo
https://lusolobo.com/wp-content/uploads/2022/12/logo-lusolobo-3-300x184.png
Lusolobo
2017-03-03 16:43:34
2018-04-16 18:42:51
Fernando Pessoa