'There are nurses who don't care anymore if they are fired' – Ana Rita Cavaco.
In the week that Apple presents its newest iPhone X with face recognition, Portuguese nurses show their faces in a 5-day strike, as the climax in a dragging conflict between the nursing trade union (SEP) and the Minister of Health – Adalberto Campos Fernandes – who promptly called the strike 'illegal and immoral.'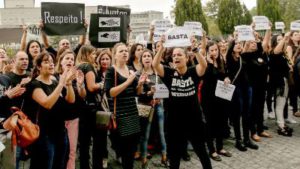 'We are still counting, but everything indicates, that an overwhelming majority – over 90% – of the nurses are supporting this action', says José de Azevedo, leader of the SEP on the first day of the strike.
The conflict with the Ministry of Health already started before summer, when nurse specialists – in particular, the midwifery professionals – asked for a higher salary that, as a result of the country's economic cutbacks in 2009, had been frozen for 8 years.
There are about 6000 nurse specialists working in the country, comprising nurses in mental health, pediatrics, rehabilitation, surgery and community health. Midwifery nurses are the biggest group, most of them working in the Obstetric departments of hospitals.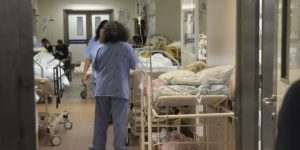 The number of qualified nurses in Portugal is – with 1 in 200 inhabitants – one of the lowest in the EU.
'There is a lack of 30.000 nurses in the country and sick leave has doubled to 10% over the last two years', says Ana Rita Cavaco, president of the Portuguese Nurse Association.
'We have proposed the Ministry to train 3000 additional nurses over the next 10 years. That would cost the Government 65 million euro – a mere 0,6% of the health budget – but we are still waiting for an answer.'
Nurses in Portugal earn a salary of 1200 euros gross per month – twice the minimum wage – irrespective their experience or additional training.
It is therefore not surprising that more than 15.000 of them have left the country in search for greener pastures [Diaspora ], in particular England, where nurse specialists earn nearly twice as much.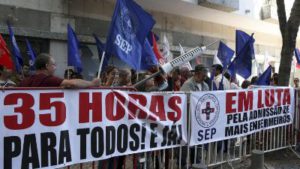 Apart from low wages, nurses also criticize the lack of career perspectives – that was canceled as well in 2009 – and demand the reintroduction of specializations, together with a gradual wage increase of 2400 euros per month over 3 years.
Finally, the nursing trade union claims a 35-hour working week for all nurses, whether they are specialized or not.
The Federation of Medical Specialists supports the nurses' demands and announced in their turn a doctor's strike of 2 days in October.
It is better to stay fit in Portugal this fall.
BOM FIM DE SEMANA                                                                                                           (pictures Lusa)
https://lusolobo.com/wp-content/uploads/2017/09/page8_PORTUGAL_CONCENTRAA_A_O_DE_ENFERMEIROS.jpg
480
640
Lusolobo
https://lusolobo.com/wp-content/uploads/2022/12/logo-lusolobo-3-300x184.png
Lusolobo
2017-09-15 15:55:58
2018-04-16 17:10:52
Basta