"Vroeger was ik privéchauffeur bij een rijke buitenlander, maar toen die tijdens de crisis uit Portugal vertrok, ben ik tuinman geworden." João Ribeira is een korte, vierkante, kalende man van bijna 75 jaar, die niet weet wat klagen is. Hij onderhoudt verschillende tuinen in Lissabon. "Thuis zitten is helemaal niks voor mij. Ik houd ervan om buiten te zijn en met mijn handen in de grond te wroeten." João heeft nooit veel vertrouwen in de politiek gehad: "ze doen maar wat daarboven", maar de verleden jaar aan de macht gekomen linkse regering vindt hij wel interessant. Die heeft pas het minimumloon met 10% verhoogd, van 505 naar 557 euro. João vindt dat ze nu ook maar meteen de lage pensioenen moeten aanpakken.
De Portugese economie zit immers in de lift, hoewel die minder stijgt dan bij de Europese buren. Met een beetje geluk kan in 2018/2019 het niveau van 2008 gehaald worden. Toen stortten wereldwijd de financiële markten in en moest Portugal van de eurolanden en het IMF 78 miljard euro lenen. Aan dat steunprogramma is een paar jaar geleden gelukkig een einde gekomen.
João's grootste zorg is of hij in 2017 nog uitzicht heeft op een baan, nu zijn werk dreigt te worden overgenomen door een groot tuiniersbedrijf. "Een stel goedkope Braziliaanse arbeidskrachten, die flut werk leveren en alleen maar op geld uit zijn."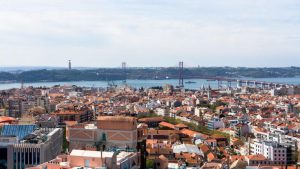 Betalen voor vista
Wat een huis met tuin in Amsterdam is, is een huis met uitzicht ("vista") in Lissabon. Onbetaalbaar dus. In Portugal is de belasting op huizen met een vrij uitzicht dit najaar met 20% verhoogd. Het was eerst de bedoeling om de verhoging voor alle huizenbezitters in te laten gaan, maar op verzoek van de communistische partij in de coalitieregering gaat het alleen op voor huizen van meer dan 250.000 euro.
Voor wie geen behoefte heeft aan uitzicht, is er goed nieuws. Huizen met uitzicht op een kerkhof of een waterzuiveringsinstallatie worden 10% minder belast.
Gelukkig Nieuwjaar Feliz Ano Novo
https://lusolobo.com/wp-content/uploads/2017/11/Foto-1-30-12-16-768x432.jpg
432
768
Lusolobo
https://lusolobo.com/wp-content/uploads/2022/12/logo-lusolobo-3-300x184.png
Lusolobo
2016-12-30 07:27:28
2021-12-03 16:54:47
Uitzicht