The only food the Portuguese are more crazy about than fish is soup.



Caldo verde is a thick soup made with thinly-cut strips of Galician kale and potato, and always a lump or two of chorizo floating in it. It is thought to originate from the northern Minho province in the 15th century and goes very well with Broa.



Broa de milho is cornbread consisting of plain flour, cornmeal, yeast, water, milk, sugar, salt, and butter. It is often used for dipping in soups and stews. In the past, broa de milho was considered a poor man's food but is enjoyed today by all tiers of society.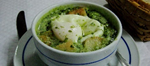 Açorda is bread soup in numerous varieties. Most have a smooth and thick consistency and contain olive oil, salt, herbs (coriander), garlic, eggs, and boiling water poured over diced bread.




Bolinhos de bacalhau or pasteis de bacalhau are little deep-fried patties of salt-dried cod and potatoes.



Bifana is a sandwich that consists of pork steaks simmered in a garlic sauce and then placed inside a bun. It is suggested to have appeared first in Vendas Novas. When beef instead of pork is used, the snack is called prego. Both are such fast-food classics that Mc Donald's produces a McBifana and a McPrego for the  Portuguese market.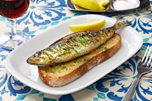 Sardinhas assadas are synonymous with Portugal. First, the sardines are coated with salt before grilled over a hot charcoal grill. You usually eat them on a simple slice of bread with soaks up the delicious juices. There is even a sardine festival in Lisbon on the 13th of June when the city is filled with smoke.



Caracóis are seasonal and available from May until September. When you see signs saying 'Há caracóis' at cafés and restaurants you'll know they are around.



Amêijoas à Bulhão Pato is a simple dish named after the 19th-century poet Raimundo António de Bulhão Pato. It combines clams and a flavourful sauce based on olive oil, garlic, lemon juice, white wine, and fresh coriander.



Queijo da Serra is the country's most famous cheese from the mountainous region of Serra da Estrella. The primary ingredient of this soft and salty cheese is unpasteurized ewes milk to which thistle is added to coagulate the milk.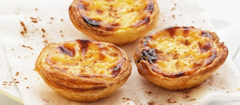 Pasteis de nata is the famous egg custard tart, originally made around the 18th century by Catholic monks and nuns in Santa Maria de Bélem in Lisbon. The tart was made from leftover egg yolks, used in the starching of nuns' habits. The owners of the shop Pasteis de Belém – a former sugar refinery next to the Jerónimus Monastery – are said to have acquired the recipe – they still use – in 1837 directly from the monks.

Stay Healthy Fique saudavél (pic tasteatlas/expatica)






https://lusolobo.com/wp-content/uploads/2020/10/Foto-Blog-Snacks-NB.TW_.png
427
640
Lusolobo
https://lusolobo.com/wp-content/uploads/2022/12/logo-lusolobo-3-300x184.png
Lusolobo
2020-10-07 22:33:11
2020-10-07 23:08:26
Snacks