'Rail is the only means of transport that reduces CO2 emissions while increasing transport volumes'



The narrative of Portugal's high-speed rail connections to Madrid, Porto and the Spanish city of Vigo is back on track in this European Year of Rail with Portugal chairing the Presidency of the EU.

It started some 20 years ago when the former Minister of Infrastructure João Cravino promised to link Lisbon to Porto by train in 1 hour and 15 minutes. The high-speed rail project, however, went up in smoke through lack of funds.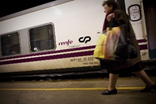 Lisbon is nowadays one of the few capitals in Europe – besides Athens and Talin – without international rail connections. In March last year, both theSud-Expresso (to Hendaye, on the French-Spanish border) and theLusitânia Expresso (to Madrid) were suspended due to lack of profitability and the coronavirus pandemic.

These days a trip by train from Lisbon to Madrid requires 4 trains and 3 transfers. The journey of 600 km takes a little more than 10 hours and costs about 55 euros.



Portugal's national railway and metro network has 528 stations. The 10 busiest – 8 in Lisbon and 2 in Porto – handle 38% of the 24 million passengers every month. The most overloaded station Cais do Sodré in Lisbon belongs to a metro network that doesn't even has a connection to the national railway network.

Cais do Sodré is also the end of the suburban railway to Cascais and has a flow of 1.5 million passengers per month, just as much as the two busiest stations in Porto.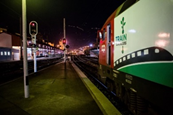 This decade the government will – with the help of EU grants – invest over 10 billion euros in 16 rail projects. Half of this amount is earmarked for the high-speed connections Lisbon – Porto (travel time 75 min) and Porto – Vigo (time 60 min). The high-speed rail Lisbon – Madrid (time approx. 150 min) is under construction and due to be finalized December 2023.

The other half of the 10 billion project serves the creation of new metro and train lines, the modernisation of existing lines and the purchase of rolling stock.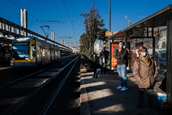 During the past decade, the use of cars in the Lisbon metropolitan area has increased significantly, leading to more congestion, pollution and noise. One of the key modernisation projects therefore is to improve the nation's second-busiest railway Lisbon – Cascais in order to encourage sustainable and environmentally friendly (inter)urban mobility.



The existing 1500 volts DC electrification system on this 25 km course is completely different from the rest of the country's railway network and the trains used are only suitable for this trajectory. Putting in place new 25 thousand volts AC overhead lines will not only enable integration in the national network but also result in 50% energy savings.



Before the purchase of new carriages, the 17 stations along the line will be upgraded and made more user-friendly. Moreover, its platforms have to be standardized to guarantee that new trains from the national network can smoothly pass and don't get stuck as happened on a test-drive on Sunday, the 13th of December in São João do Estoril.

Stay safe Fique saudável (pic Público/Sapo)





https://lusolobo.com/wp-content/uploads/2021/03/Foto-Blog-Rail.jpg
607
1080
Lusolobo
https://lusolobo.com/wp-content/uploads/2022/12/logo-lusolobo-3-300x184.png
Lusolobo
2021-03-04 10:27:30
2021-03-04 10:45:27
Rail