Nearly 1 in every 100 world citizens is on the run  –  UNHCR
'I am very sad and angry. For more than a year in Portugal and still no permit. Why's that?', Mustafa asks. 'They keep saying I have to be patient.'
When ISIS claimed one of his younger brothers for the Jihad at the end of 2015, Mustafa al-Sabee – a 30-year-old, successful tailor from Mosul – decided to flee Iraq with his family. He pays 3700 euros to reach Syria and another 5000 to enter Turkey, where he leaves his sick parents, his two younger brothers and a sister behind. He crosses the Aegean Sea by rubber boat and reaches Greece in February 2016. Six weeks later, he flies together with a selected group of – mainly Syrian – refugees to Portugal, convinced to get asylum there.
Mustafa belongs to one of the more than 1200 refugees, allocated to Portugal by the European Commission, within the framework of resettlement of refugees from Italy and Greece.
He himself would rather have gone to Belgium – where he knows a cousin – or to Germany, where distant relatives live.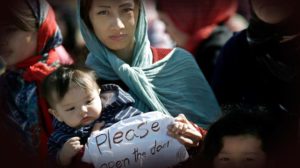 In the meantime, he has been staying in Portugal for over a year, and despite the fact that pre-selection took place in Greece, he's still waiting for his residence permit.
Without that, he can't work officially and his family is not allowed to join him.
Resettlement of refugees is slow. To date, only 20% of the promised number of relocations of refugees from Greece and Italy, has been realized by all European member states together. Although Portugal accepted over 40% of its assigned refugees, it does not succeed in retaining them, as almost half have already left the country!
Refugees arriving in Portugal want to leave. Not at least because they prefer Northern European countries – like Germany, France or Switzerland – and feel utterly "lost" in Portugal.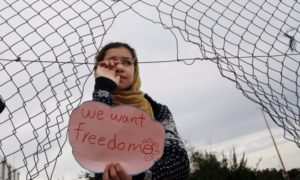 Moreover, they do not find the conditions they hoped for and are distributed across the countryside, while most of them have an urban background. In addition, asylum procedures are very slow, there are problems with the recognition of diplomas and there is a lack of Arabic-speaking interpreters.
In the last 18 months, only 64 (5%) of the asylum seekers were granted a residence permit.
Is it surprising that many are heading for greener pastures up north?

Bom fim de semana
/
by Lusolobo
https://lusolobo.com/wp-content/uploads/2017/08/Foto-1-4-8-17-Refugees-1.jpg
471
840
Lusolobo
https://lusolobo.com/wp-content/uploads/2022/12/logo-lusolobo-3-300x184.png
Lusolobo
2017-08-03 02:51:39
2018-04-16 17:25:31
Refugees