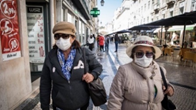 With more than 3000 new Covid cases and 31 deaths registered in 24 hours – according to figures by Portugal's DGS (Directorate General of Health) – Parliament decided last Friday that face masks are going to be mandatory in public spaces across the country.


The measure – valid for the next 70 days – obliges residents over the age of 10 to wear masks outside whenever physical distancing of 2 metres can't be guaranteed. A face shield will not do.
Rule-breaking citizens risk a fine of between 100 and 500 euros.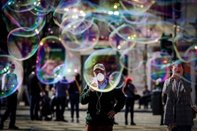 The decision follows an earlier set of rules – in force since October 15 – in which the entire country returned to a State of Calamity including the prohibition of gatherings in public of more than five people, family events (weddings and baptisms) limited to a maximum of 50 people and fines up to 10,000 euros for anyone breaking rules over physical distancing or numbers of people allowed to meet.

Although with a population of 10 million people, Portugal recorded a comparatively low number of cases (116,000) and deaths (2,300) so far, it is – like most European nations – forced to increase restrictions in order to tackle the second wave of COVID-19. Out of 1455 people in hospital, 221 are currently in Intensive care.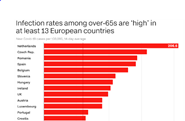 People all over Europe are facing tougher restrictions. Big cities in Italy and France encounter curfews, Greek citizens have been told to stay off the street between 12.30 pm and 05.00 am and Spain declared the State of Emergency as from today.
The Czech Republic, Belgium, the Netherlands, and Spain are currently the worst-hit nations, according to recent figures by Johns Hopkins University.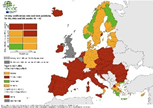 Brussels – in need of a new approach to 'free circulation' of their citizens – proposed last week a 'set of criteria' comprising the number of new infections per 100.000 inhabitants over the previous 14 days, and the number/percentage of positive tests performed per 100.000 inhabitants in the last 7 days.

These criteria can be used to define red, yellow and green zones as well as consider restrictions on free circulation. They will also serve to determine areas where people have to stay in quarantine.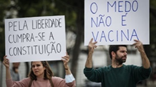 The day after Parliament decided on mandatory masks in public places, hundreds of people in Lisbon protested against the measures. They shouted 'freedom' and carried banners saying 'masks create distrust' and 'fear is not a vaccine'.


Stay safe Fique saudável (pic Público/Sapo/Observ)



https://lusolobo.com/wp-content/uploads/2020/10/Foto-Blog-Masks.png
307
570
Lusolobo
https://lusolobo.com/wp-content/uploads/2022/12/logo-lusolobo-3-300x184.png
Lusolobo
2020-10-25 16:35:26
2020-10-25 16:45:19
Masks