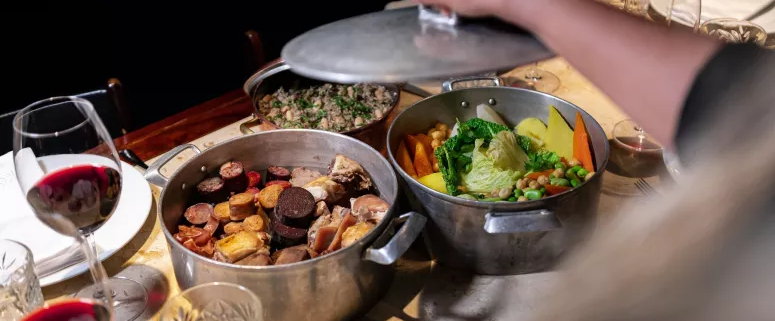 Traditional food is based on fish, seafood or pork with lots of olive oil.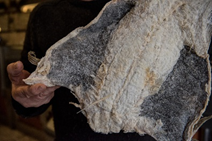 Bacalhau is the undisputed National dish, especially on Christmas Eve when 4 to 5 thousand tons of Norwegian cod is devoured.
Cod became prominent during the Discovery Era because it could be stored for longer periods. You can see and smell the large hard chunks in shops, where a small saw is often used to cut the fish. Salted cod is primarily soaked for at least 24 hours in water before cooking, grilling, frying, or braising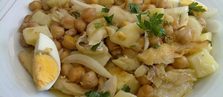 Popular dishes are cod baked with cream (bacalhau com natas), stir-fried with shredded potato, eggs, and onions (bacalhau à brás) and cod with chicken peas (meia-desfeita).
Meia-desfeita ('half-undone') stems from the times when one used to order only half the dish.



Arroz de marisco consists of rice, monkfish, and seafood like prawns, mussels, squid, or clams and is usually seasoned with fresh herbs and white wine. Unlike the Spanish paella, it is not fried and often described as a thick rice stew.



Polvo à Lagareiro is made in the style of Lagareiro. In this case, the octopus is boiled, then cut into pieces, grilled, and brushed with extra virgin olive oil. The dish is dressed with a combination of garlic, coriander, lemon juice, and salt, served with small roasted potatoes with their skin intact and lots of olive oil.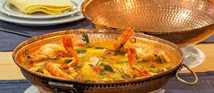 Cataplana de marisco refers to a popular fish- or seafood dish sharing the same name as the clam-shaped copper pan in which it is prepared. The Moors introduced the dish which usually includes white fish, shellfish, red peppers, onions, and a bit of chili.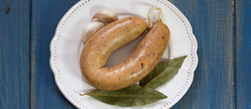 Alheira is a smoked sausage typically made with various types of meat, bread, garlic, olive oil, and paprika. It is believed to be invented during the Inquisition by Portuguese Jews. To disguise as Christians they started producing pork-like sausages but would replace the traditional pork with poultry and game.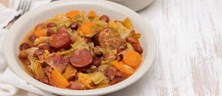 Feijoada à portuguesa is a hearty bean stew originating in the north of the country before it was introduced in Brazil, where it is considered the National dish. It is made with red kidney or white beans and usually includes pork (ears, foot), morcela (blood sausage), or chouriço.



Iscas com elas are thin strips of cow's liver, sautéed in wine and garlic. They're served with boiled potatoes (referred to as elas – meaning them). The dish was brought to the country by the Galicians, who arrived in the 18th century to work in, and later own restaurants and cafés.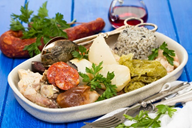 Cozido à portuguesa is a rustic stew for meat lovers. It usually consists of beef, pork, chicken, and smoked sausages, such as morcela, chouriço, or alheira. It might also contain other bits of animal-like pig's ear or foot – and potatoes, cabbage, or carrots. All the ingredients are cooked together in a single pot with different items added at different times.



Boas Festas Stay Healthy (pic tasteatlas/roads&kingdoms/sapo)









https://lusolobo.com/wp-content/uploads/2020/12/Foto-Blog-Mains-NL-TW.png
391
775
Lusolobo
https://lusolobo.com/wp-content/uploads/2022/12/logo-lusolobo-3-300x184.png
Lusolobo
2020-12-24 13:02:31
2020-12-24 13:11:00
Mains