'No one does wrong willingly or knowingly' (Socrates*- Greek philosopher)


On Friday the 9th of April, the Portuguese judge Ivo Rosa ordered ex-Prime Minister José Sócrates (2005-2011) to stand trial for money laundering and falsifying documents, dropping more serious charges of corruption against the former leader of the Socialist Party (PS).

The decision – being the latest twist in a nationwide soap called 'Operation Marquês' (marquis) – is gripping the country since the police arrested the ex-PM at Lisbon airport on the 21st of November 2014. Sócrates almost spent a year in preventive pretrial detention before his conditional release in late 2015.



Sócrates quit the party in 2018, accusing leading figures of backing accusations against him. The current center-left PM and socialist party leader António Costa – who served as a minister under Sócrates – has so far succeeded in distancing himself from the case.



Among the 31 charges brought against Sócrates, judge Rosa decided to move to trial on just three accounts of money laundering and three of document fraud, for which Socrates still risks ten years in prison.



Sócrates himself has always denied the allegations. 'All the great lies of the Public Prosecution have fallen', he told journalists after de court's decision.
'I feel the tranquility of the innocent and want compensation for everything.'



The Public Ministry immediately demanded the annulment of the controversial decision and nearly 200.000 Portuguese signed a petition, calling for the removal of judge Rosa from the magistrature because of 'his partiality and judicial errors.'

The outcome raises serious questions about the judicial system, which sent a former PM to jail, but fails to collect sufficient proof – despite nearly seven years of investigation – on the most serious charges, involving 11 volumes (over 6000 pages) of arguments.



Operation Marquês– named after the PM's former residence at the Marquês de Pombal square in Lisbon – also incriminates Ricardo Salgado, ex-CEO's from the biggest bank at that time – the Espirito Santo bank (BES) – who was accused of 21 crimes.

Judge Rosa, however, ordered the ex-banker to stand trial on only 3 cases of breach of trust, dropping more serious allegations that Salgado had bribed Sócrates to lucrative deals involving the state-owned company Portugal Telecom. Both BES and Telecom collapsed in the wake of the eurozone crisis, leaving the Portuguese taxpayers with a multi-billion-euro debt.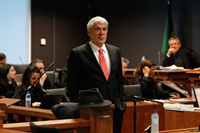 Current president Marcelo de Sousa said he hoped Operation Marquês will reach a 'visible end in due time' but even if Marquês goes forward as the Public Ministry intends and even if the 63-year-old José Socrates is found guilty – with all the appeals that could follow – he would very unlikely see the inside of a jail before he is 80 and Ricardo Salgado (now in its 70s) before he is in his 90s.



Socrates* (469-399 BC) was a philosopher from Athens best known for his dialectic method of inquiry. He was put on trial for not believing in 'the gods of the state', found guilty, and forced to commit suicide by taking poison.


Stay healthy Fique saudável (ref Público/Político)






https://lusolobo.com/wp-content/uploads/2021/05/Foto-Blog-Marques.png
720
1280
Lusolobo
https://lusolobo.com/wp-content/uploads/2022/12/logo-lusolobo-3-300x184.png
Lusolobo
2021-05-06 15:41:32
2021-05-06 15:50:58
Marquês